Tuum highlights in 2022:
Year in review [Infographic]
We all hoped that 2022 would bring more stability and opportunities, but it has proven to be another unpredictable and challenging year. But in times of uncertainty, nothing helps to put things in perspective like looking back at your accomplishments.
That's right – it's time for us to reflect on our year and share some of the biggest highlights with you. One thing is for sure, 2022 was another successful year for Tuum.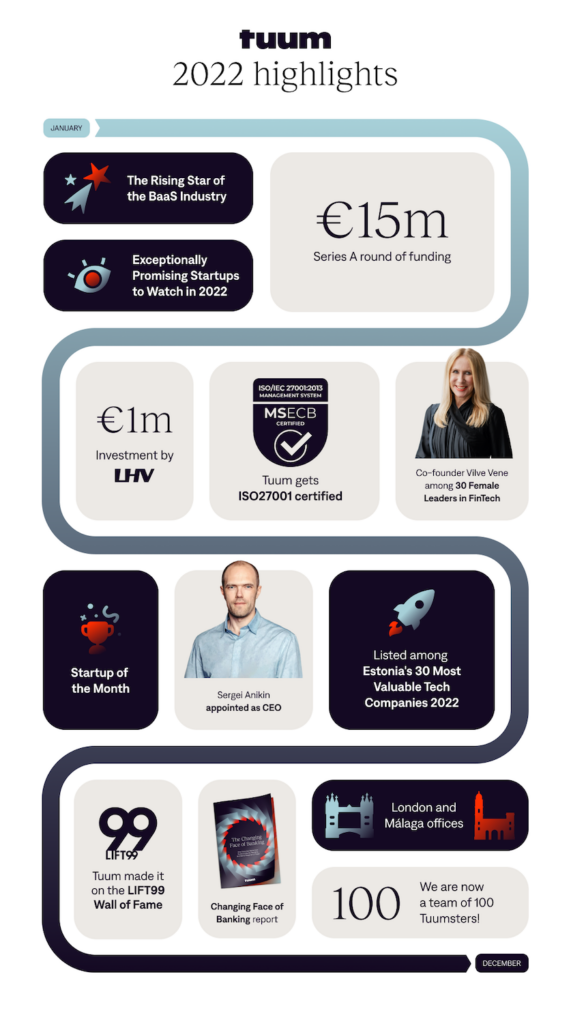 The year got off to an excellent start as we secured our A round of funding. This enabled us to invest more in product innovation and support our global growth in 2022. From strengthening our presence in the EU, we also focused more on the UK market. In addition to attending many industry events in London, including hosting one in collaboration with our partner Salv, we opened our newest office in London.
This year, we also underwent a company-wide audit encompassing how we manage our data, technology, and risk management practices. This work led to a significant milestone for us – achieving the ISO27001 certification.

It was great to see that all our hard work has not gone unnoticed. From being named the Rising Star of the BaaS industry by Sifted to being selected as an exceptionally promising startup to watch in 2022 by EU-Startups, we were also listed among Estonia's most valuable tech companies and received our plaque on Lift 99's Wall of Fame. The Wall of Fame celebrates the biggest startup success stories and strongest founders from Estonia.
All of this has been possible thanks to the continuous support from our existing and new clients. We are truly grateful that many regulated banks, fintechs and embedded finance players have continued to show their trust in Tuum. This trust is further exemplified by the investment from one of our biggest clients & partners, LHV. In addition to new clients, we've expanded our partner network, with many great players such as Saltedge, Bricknode and Salv joining us.
As we say goodbye to 2022, we cannot wait to see what 2023 has in store for us. See you next year!
Back to Blog