Deep Dive:
Tuum's Lending Module
Tuum's lending module has been developed with efficiency and flexibility in mind, ensuring it is equipped to handle every stage of the loan management cycle with ease.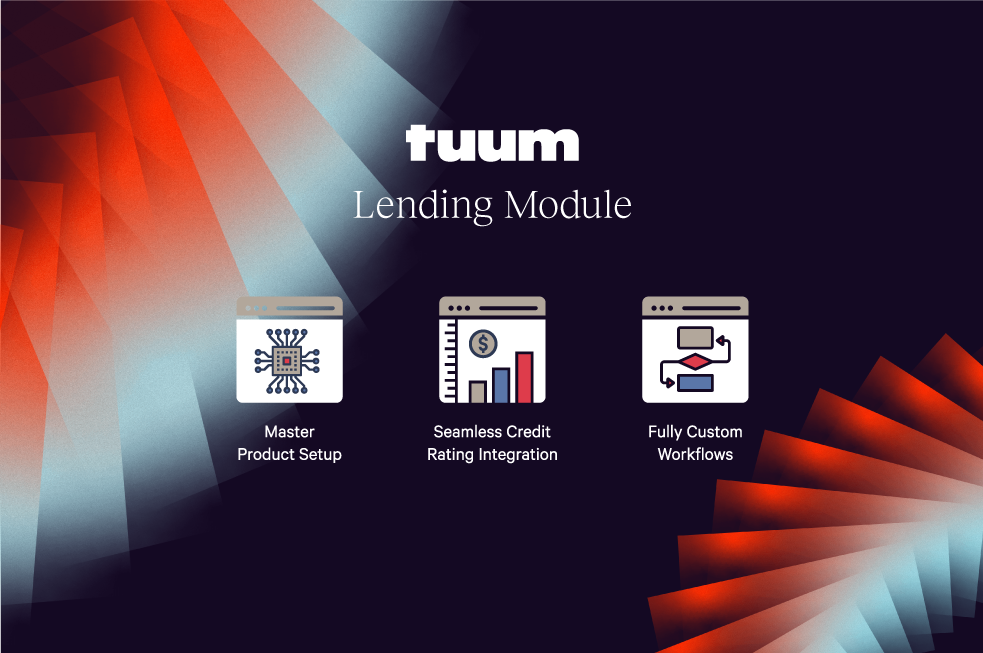 From overdrafts and credit lines to mortgages and instalment plans, both secured and unsecured, Tuum enables clients to rapidly test, configure and roll out new, personalised loan products with just a few clicks.
What makes our lending module stand out?
Below, we have outlined just some of the defining features of the module, capabilities which have been carefully developed to facilitate agile product development and improved user experience.
Find out how CrediNord is reinventing business lending in Europe with Tuum.
Master Product Setup
When opening a new loan account, one of the most laborious tasks is the establishment of your chosen terms and conditions, i.e. penalties, fees, etc.
With Tuum's platform, this process is simplified by an intuitive UI and a master product format which applies your chosen terms and conditions to all products – a 'set it and forget it' approach. Each product is also easily configurable to ensure full flexibility and no additional coding is required to make changes.
This approach also allows for simple cloning of loan products, without having to create new ones from scratch.
Loan products rarely, if ever, remain static, which is why considerations must also be made for future changes to active loans. With Tuum's contract versioning functionality, the process of creating a new contract is simplified down to a few clicks and the need for creating new IDs or instances is completely eliminated.
Seamless Credit Rating Integration
With Tuum, the decision process is simplified as our platform features seamless integration with a trusted credit rating agency and can also support integration with your own vendor of choice. These capabilities enable our platform to facilitate an agile and accurate decision process without the need for any additional middleware.
In addition, our users can define parameters around credit score, amount and period in order to calculate interest, as well as any additional fees such as for change of contract.
Fully Custom Workflows
Whilst a typical workflow may look like: application > offer > contract, perhaps this is not suitable to your business. Perhaps, you want to add additional steps for increased security, or to remove steps and accelerate the process.
Fortunately, Tuum supports completely custom workflows allowing for a personalised loan cycle based on your preferences. Parameters can be defined and configured within the platform, and, thanks to our intuitive UI, setting up a custom workflow has never been easier.
Read about Tuum's other modules:
Back to Blog