Building a digital bank in 48 hours
A fully-functioning digital bank built in 48 hours – is it really possible?
Tuum recently linked up with integration partners Senacor Technologies for a hackathon during which we set out to prove that not only can you launch a working IT infrastructure for a retail bank in 48 hours, but that it can be done with minimal effort.
Traditional financial software has an agility problem. It is cumbersome to configure, painful to integrate and requires a lot of maintenance, all of which constitutes a considerable burden for its users. These limitations have not gone unnoticed and are amongst the key reasons why Tuum was developed. We want to make banking seamless and, to do that, we have created a next-generation core banking platform that is agile, configurable, and designed to handle complex use cases.
Florian Springer, Partner at Senacor Technologies, states: "As a leading IT consultancy in the financial services sector, we have many years of experience and a comprehensive overview of the core banking market to provide our customers with optimal support. In order to meet the requirements of our projects, we constantly keep looking for suitable solutions that allow for a wide and flexible product scope with fast implementation."
"Tuum offers flexible integration through open APIs, making it one of the most innovative solutions to bolster the scalable platform businesses that many banks are thriving for."
"During our hackathon, their architecture enabled us to swiftly incorporate the necessary components for a modern loan application app, and their knowledgeable support team was able to help us overcome any challenges along the way."
As competition within the financial services industry intensifies, the ability to quickly roll out new financial products and services is paramount to gaining a competitive edge. Recognising this, we decided to challenge ourselves alongside our strategic partners, Senacor Technologies, to develop a fully functional proof of concept within 48 hours.
By selecting such a narrow timeframe, we aimed to demonstrate both the power of our platform in enabling new product development, and the intuitiveness of the interface which makes it simple enough to be used by any technical team.
Creating a Working Example
For this project, Tuum would provide a fully configurable banking cluster, as well as technical support, and Senacor would develop four apps for processing loan applications: two for iOS, one for Android, and one web-based app. These apps would then be integrated into Tuum's platform alongside data warehouse and business intelligence solutions.
For the BI tool Senacor would develop a neural network model that is designed using data from Tuum. The lending products to be used on these channels were an unsecured consumer loan and a secured car loan, both targeted at the German market.
For this project to be considered a success, the finished product would need to facilitate a complete working flow, which involves:
Creation of the customer
Creation of the account
Creation of the loan application
Creation of the loan contract
In our role as an ecosystem provider, we were tasked with assembling a platform of the necessary services with configurable and predefined scripts as well as configuring some product/business rules for that particular environment during the setup period.
Following this, we gave ongoing operative support to Senacor whilst they were developing Backbase applications and other periphery services (i.e. DWH and business intelligence).
Ultimately, our cooperation with Senacor's teams led to the development of a fully integrated loan process with customer onboarding.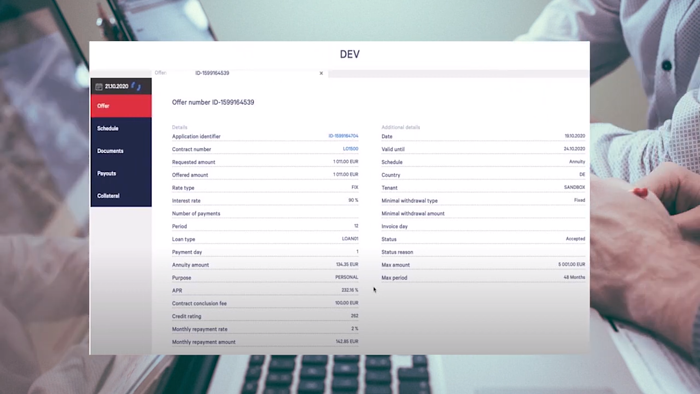 The Finished Flow
Following the successful development of the lending products, Senacor were able to demonstrate the functionality with a complete working flow:
Customer specifies loan amount and term
Customer inputs their personal data, a process which is uniform across all four apps
Customer inputs their address
Customer inputs additional information, i.e. employment/income/tax number
Loan offer is generated via Tuum's API
Video identification is carried out via third party integration (NECT)
Customer uploads their statements
Customer confirms they agree to the terms and conditions
The process is complete
Mission: Success
We are proud to report that this project was a success: frontends for loan products were fully developed and functioned properly, data warehouse integration was successful and first preliminary neural network models were engineered for the business intelligence solution. All of this was carried out in cooperation with our partners at Senacor within a 48 hour period.
The success of this project is a notable achievement for Tuum and constituted a compelling demonstration of the power of our platform. Our microservice based architecture, simple APIs and cloud based hosting facilitated the agile development of the new lending products. In addition, our team of banking and technology specialists were able to showcase their expertise in guiding Senacor's teams throughout the project.
Thanks to insights and feedback from Senacor, we were also able to further improve our offering and even generate some new product ideas.
As digital adoption continues to grow, so too does the speed at which the financial services industry is moving; Tuum is continuously evolving to ensure we remain at the forefront of this digital transformation.
For a further insight into how we were able to build a digital bank in 48 hours, please view the following video.
Back to Blog