Tuum x Salv Fintech Meetup 2022 in London
London is calling for Tuum and Salv, as we host our first Fintech meetup to discuss the benefits of plug and play banking.
Join us in London on the 9th of November for an evening filled with networking, drinks and a fireside chat with industry experts about plug-and-play solutions. In a time of economic uncertainty, when the financial services industry is seeking new opportunities to drive growth and revenue, we will be exploring how building a best-of-breed partnership ecosystem can transform your business capabilities.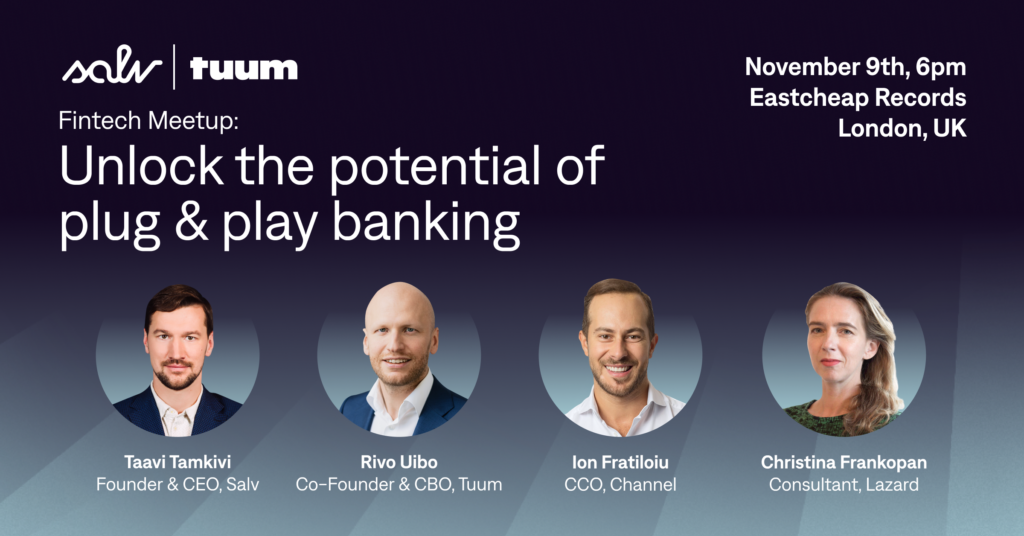 Key takeaways
DATE: 9th of November
TIME: 18:00-21:00
WHERE: Backstage at Eastcheap Records
SPEAKERS:
Agenda
18:00 Gathering & welcome drinks
18:40 Opening words by hosts Tuum & Salv.
18:50 Fireside chat "Unlocking the potential of plug & play banking – how to build, scale and future proof your financial institution", with Rivo Uibo (Tuum), Taavi Tamkivi (Salv) and Ion Fratiloiu (Channel).
19.30 Networking & drinks
Back to Blog