Fight against financial crime:
Interview with Salv's CEO Taavi Tamkivi
Just recently, Tuum joined forces with Salv, the regtech company founded by Wise and Skype employees to combat financial crime. We know that financial crime compliance can be a major burden for our clients, which is why we have sought out a best-of-breed solution to address these concerns.
Further, our partnership with Salv helps us address the discrepancies often found between time-to-market strategy and the quality of AML (anti-money laundering) compliance. By working with Salv, Tuum's clients gain access to a fast, flexible and transparent AML platform with advanced monitoring, screening and risk-scoring solutions.
Read on: Tuum strengthens AML compliance offering through a partnership with Salv
But how does Salv operate daily? What is their mission and what kind of initiatives have they taken on to combat financial crime?
To answer these questions and get a better understanding of their company and the problems they are solving for different financial institutions, we did an interview with Salv's founder and CEO, Taavi Tamkivi. He will also introduce Salv Bridge, the only cross-border information and data exchange platform and network aiding crime fighters in strengthening defences against money laundering and fraud.
1. Can you introduce us to Salv: a brief history of the company and the problems you solve for banks and fintechs?
We are a team of crime fighters building anti-money laundering and anti-crime products for nearly four years. We know compliance pain points very well, having dealt with them over a decade already, and believe that every crime-fighter deserves products and tools to help them deepen their work and make it more impactful.
Over the recent years, we have learned that to achieve real change, we can't simply focus on creating better AML procedural products like sanctions screening, transaction monitoring, and risk scoring. We must find better ways to exchange information between financial institutions moving money within countries and across borders.
To this day, many financial institutions continue working in silos. But the international community and individual countries are gradually realising that information sharing and better industry collaboration can have a massive impact on the industry. Some promising new legislative developments are coming from the Financial Action Task Force (FATF) and the EU. All of that gives us confidence that we are moving in the right direction.
2. The FATF report* draws on the successful experience of global information-sharing initiatives in fighting financial crime. What makes information sharing more effective and powerful in financial crime prevention?
We know that criminals operate in highly connected networks spread around the world. Unfortunately, today we are several steps behind what criminals are doing.
And there is no way to defeat these networks unless we change our mindset and shift from working in silos to industry-wide collaboration. Such a shift would allow us to compete equally with them and hopefully turn the game around.
It can be challenging to detect money laundering. Typically, it involves a chain of seemingly legitimate transactions between multiple financial institutions, which can stay under the radar for a long time. Like everyone else, criminals tend to make mistakes, which is when monitoring systems can capture such transactions. However, it's not guaranteed.
When a particular transaction raises suspicions of money laundering, we must thoroughly investigate it. Today, financial institutions can only sometimes collect enough evidence to report such transactions to financial intelligence units (FIUs).
Emerging information-sharing initiatives allow financial institutions to exchange information about suspicious transactions and do so in a responsible and compliant way.
With the help of information-sharing initiatives, financial institutions can send warning flags to their peers or request additional information to confirm or deny any suspicion.
Taavi Tamkivi
CEO & Co-founder of Salv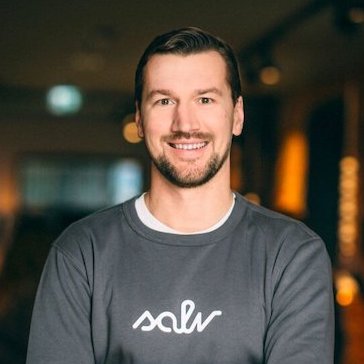 *The FATF report – Partnering in the Fight Against Financial Crime: Data Protection, Technology and Private Sector Information Sharing"
3. What are the current challenges in responsible information sharing, and how can we overcome them?
The main challenge is the need for courage. What prevents many financial institutions from joining the network is that they are still determining what they can do under the current regulations. It takes a lot of time to interpret the laws and figure out the right thing to do.
Further, information sharing still needs to be legally enforced. At the moment, it's optional, so there is no complete clarity. It comes down to the meaning of the European Union's General Data Protection Regulation (GDPR) and how it is observed in each particular country.
Even though there are many unknowns, financial institutions are eager to tap into information sharing. But they need a lot of encouragement from regulators and senior management. Everyone agrees this is the right thing to do, but getting everyone aligned may take time and effort when many decision-makers are involved.
The FATF showed that information sharing is necessary to mitigate money laundering and terrorist financing risks. The challenges are numerous, but many positive shifts are happening in the industry. The UK's new Economic Crime and Corporate Transparency Bill promotes broader information sharing among financial institutions without breaching confidentiality.
4. How do banks (and fintechs) use information sharing to detect and prevent financial crime? How does Salv make information sharing more accessible to banks?
I want to point out two things: compliance and speed. In our industry, getting quick access to information is essential. But you can't rely on your evidence alone. Financial institutions that are part of the information-sharing network are less vulnerable to the risk of being non-compliant or risk of becoming part of some money laundering scheme.
Information sharing can happen when we have a proper channel, a trusted community, and the regulator's blessing. In our case, the channel is Salv Bridge, which is fast, secure, and accessible to all members.
The regulator's blessing ensures that the technology they use is recognised and supported by regulators: financial supervisors and data protection supervisory authorities.
However, the recognition must also come from the government and the media so the financial sector knows that the technology is transparent, auditable, and compliant with the latest regulatory guidelines.
5. Tell us more about Salv Bridge and how does it work?
Salv Bridge is a cross-border information and data exchange platform and network that aids crime fighters in strengthening defences against money laundering and fraud.
It allows compliance officers to send messages within minutes after receiving an alert and enrich investigations with multiple pieces of evidence, making it easier to report directly to FIUs.
The early adopters of Salv Bridge were a small, trusted group of people from different financial institutions. The group grew to include nearly a hundred members in as little as a year. The more people shared success stories, the more they understood the value of an information-sharing network.
The channel is necessary, but without a growing community of end-users, it's just a tool. It's important to keep the community active and alive.
6. The FATF report calls Salv Bridge an exemplary private-private information-sharing initiative. What makes it so distinct, in your opinion?
Salv Bridge is an information and data-exchange platform that considers the risks associated with the increased sharing of personal data, allowing members to exchange information in a compliant, auditable and transparent way.
Of course, more information collaboration initiatives focus on different components of information exchange: data pooling, non-transactional typology exchange, etc.
However, these initiatives typically operate within a particular country, banking network or a selection of local banks. They are often controlled by the local banking association or FIU, maybe some local payment network providers, which is excellent, but extending those to other regions and countries is tough.
But none of them is close to what we have achieved with Salv Bridge because it's not about what you focus on but how you can make everything work together.
We know that crime doesn't stop at the borders: Salv Bridge is the only cross-border information exchange platform.
7. What's next on your agenda?
Our ambition is a world without financial crime. Salv Bridge makes it more possible by the day.
Back to Blog